Fan powered foundation crawl space ventilation quickly reduces moisture helping to protect both home and occupants.
Ventilates excess moisture, the cause of mold, mildew and wood rot. Increases air circulation to fight condensation.

Constant operation helps vent radon, treated wood off-gassing and odors that might otherwise migrate into living areas.

Ventilators are installed inside crawl space behind existing foundation ventilation opening.

Minimum ventilation rate required by code is 1 CFM per 50 ft² of Crawl Space area.

Call 800 685 8263 or buy online at www.volkosupply.com
---
Best on the market....

ETL Listed with a special "Suitable for Damp Locations" rating. Find that statement on those cheapo "duct fan on a plate" knock-offs.

Mounting plates are 18 ga. G90 galvanized steel on the V1D and V2D, 20ga. G90 on the V1

.


G90 is the thickest coating of galvanization that is available and what most highway street signs are made out of.
---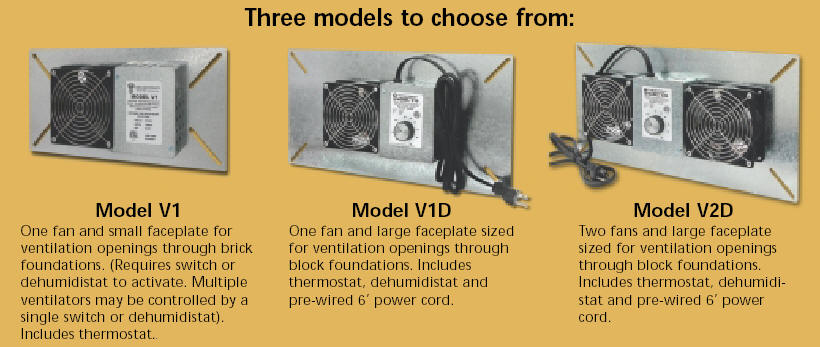 Call or e-mail us with your crawlspace measurements... 800 685 8263 / volkosupply@yahoo.com
We will help calculate the number of fans necessary, offer fan options and provide installation tips.
---
The Tjernlund UnderAire™ Series Crawl Space Ventilators are designed to circulate fresh outdoor air underneath homes and porches. Excessive humidity levels in Crawl Spaces is the leading cause of premature rotting of support columns, joists, floors and beam supports. Humidity can promote fungus growth and increased termite activity.

Humidity may also cause plumbing failures due to rust and corrosion. Constant operation helps vent radon gases, treated wood off-gasing and other odors that might migrate into living areas.

All Ventilator models are equipped with a factory installed and pre-wired thermostat which will prevent operation of the fan below 35°F. Deluxe models (V1D & V2D) are controlled by a de-humidistat which actuates the fan if the relative humidity rises above the selected set-point.

Screws and masonry wall anchors are included.
---
FOUNDATION FAN MOUNTING LOCATION
Mount Crawl Space Ventilator inside the crawl space behind existing foundation ventilation openings. Ventilation openings shall be within three feet of each corner of the building.
NOTE: Crawl Space Ventilator must be mounted with the electrical control box and the motor facing the interior of the crawl space.
1. Remove existing doors or covers on ventilation openings around the perimeter of the building.
2. Position the Crawl Space Ventilator over the ventilation opening.
3. If installing on foundation block or brick, mark location in the four corners of the metal face plate and drill 5/16" holes with masonry bit. Install wall anchors into openings and secure Crawl Space Ventilator to the wall with four screws.
If installing on a wood header, rim joist or mesh on existing crawl space vent, secure Crawl Space Ventilator with screws, washers and nuts in the four corners of the Ventilator metal face plate.
---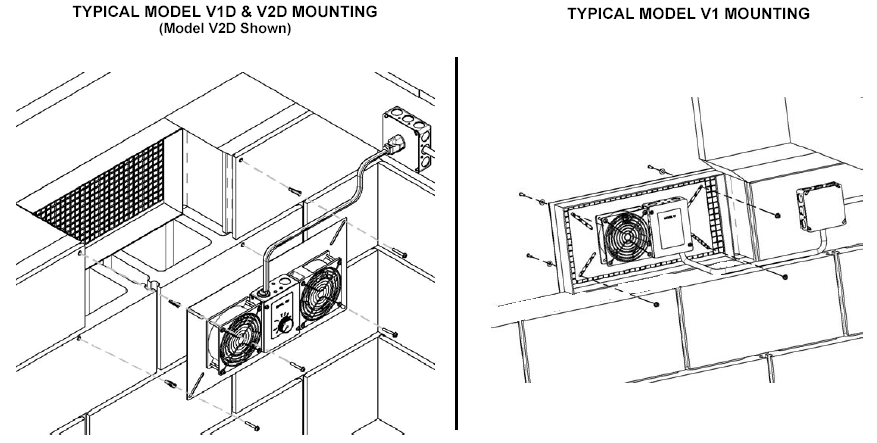 ---
---
How to determine the number of UnderAire™ Ventilators needed:
Calculate the cubic area of the crawl space by multiplying the length x width x height. Divide this number by 15 to determine the minimum CFM necessary to fully ventilate the space in 15 minutes.
Example: 20' wide x 40' long x 3' high crawl space = 2,400 cubic ft.
2400 cubic ft. ÷ 15 minutes = 160 CFM of ventilation.
Choose two V1 or V1D ventilators or one V2D ventilator.
---
Ballpark
Pricing


Ballpark pricing is based on 3 options of fan(s) with control for the example above...
If a crawlspace requires 160 CFM's you could use...

Option 1: 2 pc V1D's providing 220 CFM's combined @ $107.50 ea. Total $215 delivered.
Option 2: 1 pc V2D providing 220 CFM's @ $149.75. Total $149.75 delivered.
Option 3: 2 pc V1's providing 220 CFM's combined @ $83.75 ea. plus (1) DH10 dehumidistat control @ $38. Total $205.50 delivered.

Provide crawlspace measurements and/or sketch for a proper quote.
Usually ships UPS Ground. Additional shipping charges to AK, HI & Canada . No tax out of NY.
Click the link to buy online....
or call to order
800 685 8263
7AM - 5PM EST
Free Shipping**
Lower 48 States Only
---
UnderAire™ Foundation Vent
The UnderAire™ crawl space vents can be used to provide foundations with passive ventilation or can be used along with a fan-powered crawl space ventilator for maximum effectiveness.
These units not only provide ventilation during the warmer months, but also include a winter guard which allows homeowners to fully seal the crawl space during the heating season--greatly improving the home's energy efficiency.
Tjernlund UnderAire™ crawl space vents can be completely installed from the outside of the crawl space in minutes.
FV1

Increase crawl space air flow to decrease moisture

Increase the effectiveness of Tjernlund UnderAire™ powered crawl space ventilators

Reduce heat loss through crawl space vents during the heating season

Help prevent pipes from freezing

Open and close easily from the exterior

Feature a heavy duty screen and high quality ABS

Have a clean, finished appearance with a paintable frame
---
Got a question?? Want to order??
Call or e-mail us... 800 685 8263 / volkosupply@yahoo.com
---
---
| | |
| --- | --- |
| | Volko Supply is proud to be a distributor for Tjernlund Products. Manufacturer of the UnderAire Ventilators and other quality engineered and manufactured products that solve exhaust, ventilation and heating/cooling problems. |
Click a link to visit draftinducers.com for.....
---
---