PCV1 Powered Crawlspace Vent
Powered Crawlspace Vent (Model PCV1) creates a powered ventilation system for crawlspaces that can be utilized in both old and new construction. The PCV1 crawlspace fan is designed to be mounted behind any new or existing crawlspace vent. Its operation is controlled with a temperature switch /humidistat control which activates the motor at or above 50ºF and is user adjustable for the varying levels of relative humidity in your crawl space.
By incorporating the PCV1 crawlspace fan into your homes crawl space ventilation system, you can help stop mold growth, mildew, rot, pest /insect infestation and decrease high humidity levels while increasing the overall airflow within your foundation.
Call 800 685 8263 or buy online at www.volkosupply.com
PCV1 crawl space fan

Free Shipping**
Lower 48 States Only
No Sales Tax out of NY
Crawl space foundation fan installation

Quiet 110 CFM Ball Bearing Motor
Dries Crawlspace Gradually
Humidity Sensor For Worry Free Operation
Thermostat Shuts Fan Off At Low Temperatures
U.L. Approved Means Assured Safety
Crawlspace fans can help stop mold growth
Click the link above to buy online....
or call to order
800 685 8263
7AM - 6PM EST

Ships UPS Ground

Upgrades Your Present Foundation Vent
Easy Installation In A Variety Of Constructions
Mounts Behind Foundation Vent For Invisible Operation
Quick And Simple Solution For Under ventilated Crawlspaces


Super Tough Polypropylene Construction




One Year Limited Warranty



Size (in)

Description

Cubic Feet Louver Ventilates

Opening Size (in)

9 x 19 x 3

Polypropylene Plastic
Powered Crawlspace Vent

1650

8 x 16
To aid natural crawlspace ventilation, mechanical ventilation should exchange the crawl space air at least four times an hour or every 15 minutes.
To determine this, multiply the square footage of the crawlspace by the height to calculate the cubit feet of the crawlspace and then divide by 15 to determine the CFM needed.
Example:
Home with 1500 square foot crawl space 2 feet tall.
(1500)(2) = 3000 cubic feet
3000/15 = 200 cfm required
Each Fan provides 110 CFM so one should use two(2) PCV1 crawlspace fans.
PCV1 Crawl Space Fan
Foundation Fan
Installation Instructions
National codes require 1 square foot of free area in the foundation for every 150 square feet of crawlspace area. Most homes do not meet the criteria. The Powered Crawlspace Vent will assist with the air movement in an under ventilated home by providing 110 CFM.
The fan is controlled by a de-humidistat which will operate the fan if the relative humidity is above the set point.
The fan also has a built in thermostat, which will shut the fan off if the temperature is below 40° F.
The fan will operate if the temperature is above 50° F and the dehumidistat is in the closed position.

This unit has been preset at 60% RH.
If the surrounding air is damper than the lumber, moisture will migrate into the wood;
if the air is drier than the wood, moisture will migrate out of the wood.
Outdoor lumber normally has an equilibrium moisture content (EMC) of 12-18%.
When the EMC reaches 19 - 20%, decay can occur.

This table lists EMCs for various temperatures and relative humidities (RH).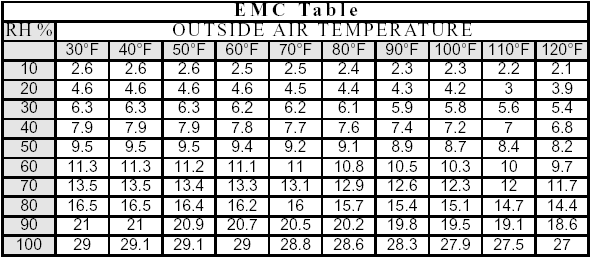 For Example:
When the temperature is 80°F and the RH is 60%, the EMC is 10.8 %. This unit has been preset at 60% RH; but, should be adjusted to accommodate local conditions.
---
Need more power? Use our V2D dual fan 220 CFM model.
Got a big job, or want to work multiple fans off 1 control? Use our V1 units (UNDER $80 ea.!!)
Click for Tjernlund UnderAire Ventilators