Weather Shield
Chimney Caps
Weathershield chimney caps were designed as a replacement cap for Class A chimneys with solid pack insulation. Tight friction fit allows this cap to slip down inside the chimney securely.
Available with spark arrestor mesh
---
WSA for Round Chimneys

For round single wall metal chimneys, masonry chimneys, chimney liners and solid pack insulated chimneys. Fits square and rectangular chimneys with adaptor.
WSA-3
3 inch diameter
WSA-4
4 inch diameter
WSA-5
5 inch diameter
WSA-6
6 inch diameter
WSA-7
7 inch diameter
WSA-8
8 inch diameter
WSA-9
9 inch diameter
WSA-10
10 inch diameter
WSA-12
12 inch diameter
WSA-14
14 inch diameter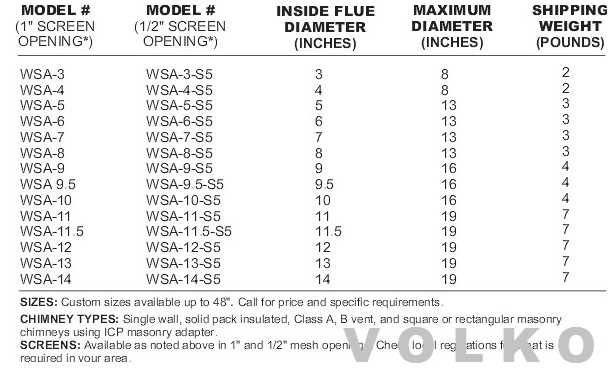 ---
---
Weather Shield + Storm Guard = Storm Shield
Ideal cap for coastal locales and areas where wind and wind driven rain are prevalent.
StormShield Model STS
for single wall, chimney liners & Class-A insulated flue pipe
Split collar allows for a secure fit
Easy assembly 100% Stainless
Top w/ Storm Shield is easily removable
for access and cleaning
Storm Shield protects flue system
from most weather conditions
---
---
CAUTION: An Air Cooled Cap must be used for Air Cooled Pipe.
DO NOT attempt to use a standard WeatherShield or StormShield for air cooled pipe.
Not sure if you have an air cooled pipe system... call or e-mail us.
WSA TDW for Air Cooled Chimneys

Designed exclusively for air-cooled chimneys, the TDW line of Weathershields assures self-adjusting secure wind-resistant fit, without interfering with the convection cooling features of air cooled chimneys. The spring tension connector enables the TDW Weathershields to fit double and triple wall air cooled chimneys
WSA-6TDW
6 inch diameter
WSA-7TDW
7 inch diameter
WSA-8TDW
8 inch diameter
WSA-9TDW
9 inch diameter
WSA-10TDW
10 inch diameter
WSA-12TDW
12 inch diameter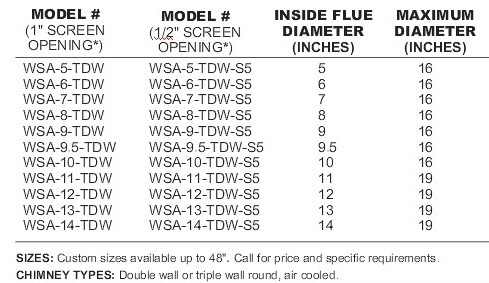 The Weathershield Chimney Caps are easy to install. They fit directly into round flues. Square and rectangular chimneys require a stainless steel adapter that are adjustable and fasten securely to the inside of the flue. Chimneys should be cleaned and inspected before installation by a chimney professional and must conform with fire, safety and building codes. Installation instructions are furnished.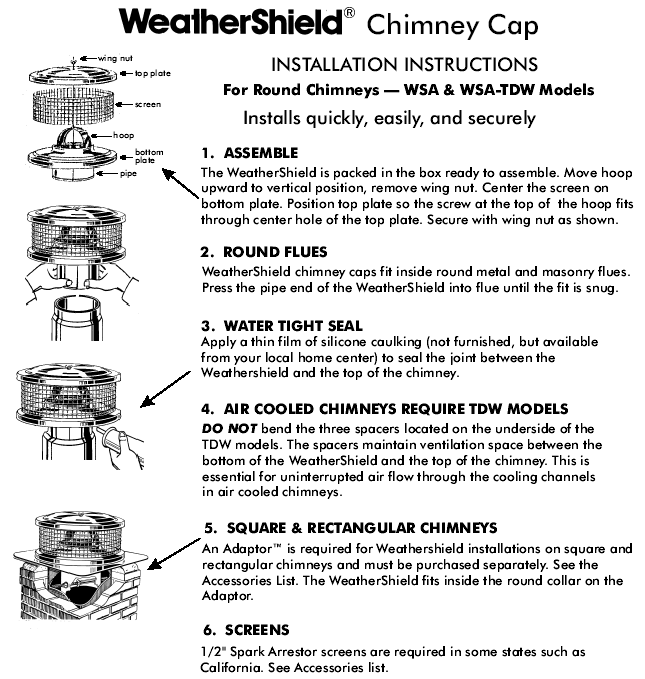 ---
Easy To Remove Screen
Easy To Clean and Inspect
The Weathershield Chimney Caps do not need to be removed for annual chimney cleaning and inspection. Simply unscrew and remove the top cover and screen, tilt support, and brush directly through the Weathershield. The top can also be closed against the bottom with an optional closure kit for sealing the chimney when not in use. Optional 1/2" screen and top supports are also available.
Click the links below for some tips and explanations....