Volko Supply Stock Through Wall Copper Roof Drains with 4" flange

Installed from "inside" the parapet wall

Stock sizes for our Copper Scuppers are 4"x4", 6"x6", and 8"x8". Custom Scuppers available as well.

Hand Made in USA! (Actually in New York)

100% Copper - 16 oz
Volko Supply has been selling these hand made copper through wall scuppers from our Garden City Park location for over 60 years! Made from 16 oz copper, our scuppers have soldered and crimped seams. They have stood the test of time and the elements.

These products are made with pride in the United States....they are actually fabricated right here in New York!

These scupper boxes are designed to be installed from "inside" the parapet wall. They are manufactured with a 4" flange, so the drain is easy to flash into the existing roof. On asphalt or built up roofs this can be as simple as some tar and fabric, or using a self adhesive roofing or roofing tape along with some asphalt primer.

This is the easiest way to get the water off of your roof and through your parapet wall. Water runs out of the tube, and you drop it into a standard commercial leaderhead or into a fancy leaderhead.

Sometimes these scuppers are used for overflow from the roof to supplement existing vertical roof drains.
Volko Supply stocks these flanged through wall scuppers in 4x4, 6x6, and 8x8
Any size box, flange, or length of tube can be made to order! Feel free to ask questions. We can also adjust the flanges for corners and right angles.
A X B

C

D

E

F

G

4"x4" Scupper

4" x 4"

12"
8"
15 7/8"
4"
4"

6"x6" Scupper

6" x 6"

14 1/8"
10"
15 7/8"
4"
4"

8"x8" Scupper

8" x 8"

16"
12"
15 7/8"
4"
4"
| | | | |
| --- | --- | --- | --- |
| | | | |
| Rear 3/4 shot of a 6x6 copper scupper. Note the Pittsburgh Lock Seam, and the soldered joints. | Full Rear shot of a 6x6 copper scupper | This picture shows the size differences in a 4x4, 6x6, and 8x8 copper scupper | On the left is a through wall scupper with flange, while the unit on the right is a scupper with an outlet tube attached. The first is an easier install, but will either spill out or must drop into a leader head. The second is a harder install, but can drain directly into a leader or through an elbow. |
Need to buy something right now? Our scuppers, leaderboxes, fancy copper leaderheads, and commercial copper leaderheads are available for sale. Please call us (1-800-685-8263) or email us (info@volko.com) for multiple item discounts and custom work.
NEED CUSTOM COPPER SCUPPERS??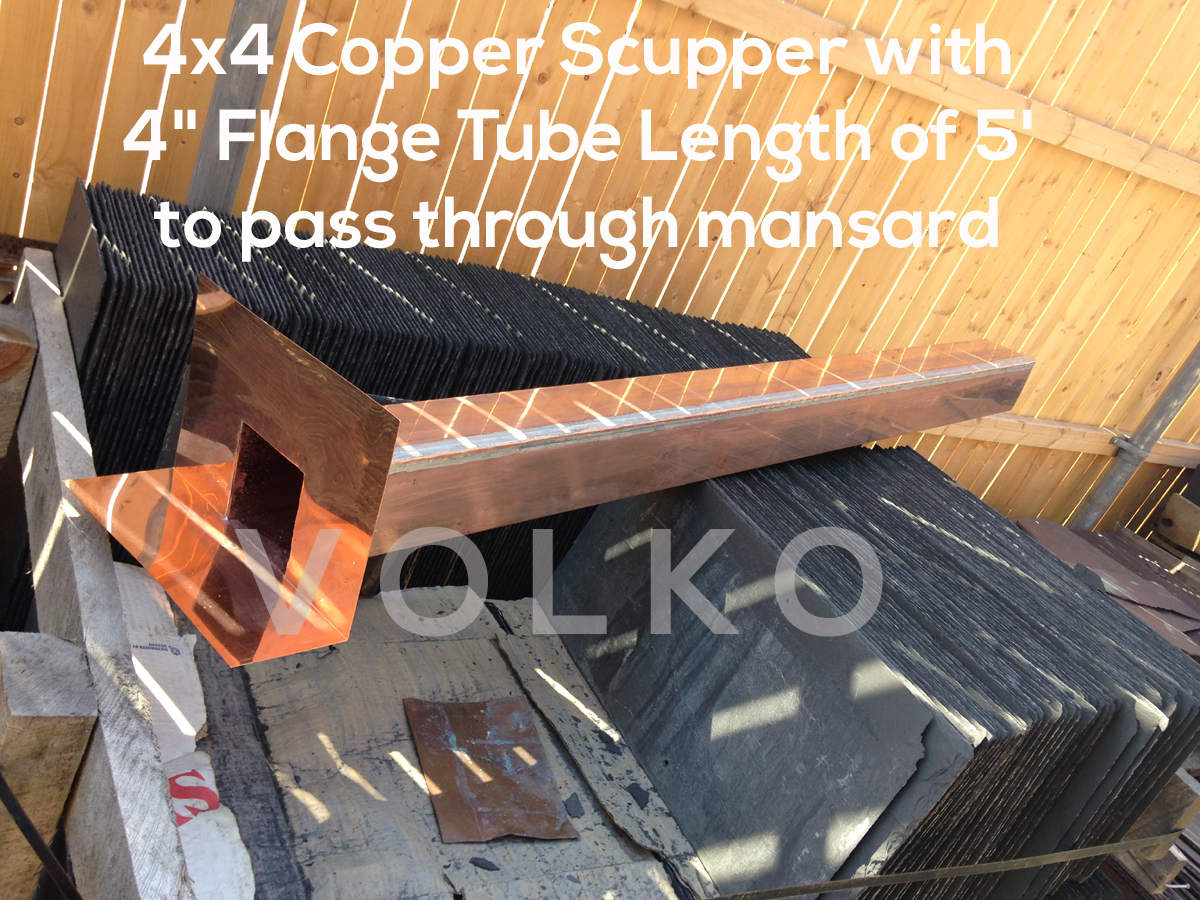 A 5' long through the wall copper scupper. This is being used to drain a flat roof through a mansard roof. Note that the seam is fully soldered. It is also double locked to ensure the drain lasts, and survives freeze thaw cycles common in the North East. Check out some of our other custom work here!
Getting water off of a flat roof should be a priority for every building owner. More problems come from standing water freezing and getting into seams, getting under flashings, and eating away at the material. If you have any questions about flat roofing or roof drains feel free to call us at our New Hyde Park or Port Jefferson location.

The problem here is the flat roof has sunk down below the level of the scupper drain. Either the scupper has to be lowered, the roof needs to be re-pitched, or a vertical flat roof drain has to be installed.
HOW MANY ROOF DRAINS DO I NEED?!?!?!?!
The answer to this question really is: it depends.
That being said there are charts to help you, as well as common sense.
How is your roof pitched? If the water doesn't flow to a drain, it will never leave the roof. Any direction water goes, it needs an exit.
The table below shows how many square foot of roof different size drains can handle at differing amounts of rainfall. Remember to consult your local building code and inspectors.
Example: In New York the max rainfall per hour is 5". At that rate, a 4" roof drain can handle 3,680 SF of roof.
REMEMBER THAT YOUR ROOF DRAIN IS CONSTRAINED BY THE LEADER SIZE AS WELL!!