Oak Grilles & Registers
EggCrate Wood Vents
For maximum air flow, use this traditional egg-crate style with 3/8" wide webs. The open area of the Flush Model is the size of the opening, to which 1" wide ends and rails are added and fully doweled to each of the web members. The frames are cut from 1-1/4" wide stock and doweled at each corner. The frame is glued and blind-nailed to the subfloor and the flooring fitted to it. When finishing is complete, the vent is placed in the frame.
Available in any size.

7/8" x 7/8" square openings

Can be custom made and to you within 10 days.
---
Insert Model

For applications in floors of any thickness, walls or ceilings, when maximum air flow is desired. The Insert Model has a self-rimming, eased lip 1/4" thick and 3/4" wide. Fluted dowels secure each web to the 1-1/4" wide side rails and end pieces. Specify the exact opening size when ordering.
Flush Model

(Available with or without a frame)
---
| | | |
| --- | --- | --- |
| | | |
| Reclaimed White Oak to be made into vents | Flush with Frame Eggcrate Sanded and ready for finishing | Reclaimed wood vent installed in floor. This project was in East Hampton, NY. |
Dowel Construction For Strength and long life
| | | |
| --- | --- | --- |
| | | |
| FLUSH NO FRAME | FLUSH WITH FRAME | INSERT |
Large Return Vent for Dune Road in Southampton - Eggcrate Style
For a custom home on Dune Rd, the builder wanted the eggcrate style vents to be flush to the wall, and made with all even sized holes. We worked with him to provide the perfect sizing. One vent had a duct opening of 60", and we were able to make the two pieces butt together seamlessly. Once this vent was painted the homeowner couldn't believe his large return was made out of two vents.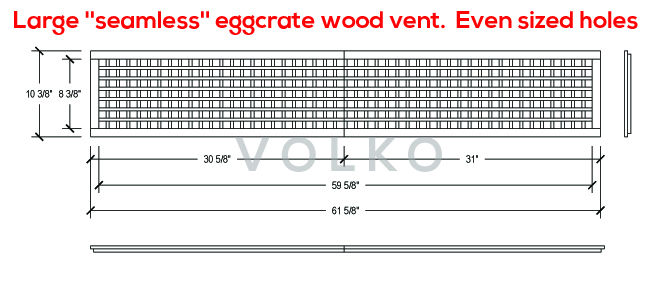 ---
Choose a link below to see specifications and sizes. Can be made custom to any heating duct opening.
Available in Oak, Maple, Cherry, Ash and many others. Click for choices.
Trimline Louver
Flush Mount
Trimline Louver
Surface Mount
One Directional
Vents
Linear Bar
Wood Vents
Wide Louver
Flush Mount
Wide Louver
Surface Mount
Solid Block
Flush Mount
Solid Block
Surface Mount
EggCrate Vents
Toe Kick Vents
Baseboard Vents
& Diffusers

Detailed Pictures

Wood Types
---
---